West Florissant Avenue, in North St. Louis County, has been a well-served corridor for motorized vehicles through many communities. In recent years, there has been increasing need to provide this historic roadway with more alternatives. Stakeholders expressed a need along the corridor for users to walk, bus, and bike. Many consider West Florissant Avenue as their only, central place for shopping, socializing, entertainment, and economic development. We were very conscious of our role as designers AND facilitators. Our goal was to engage community stakeholders in the process of branding this corridor, which in turn, gave them ownership and a personal connection to their place along the route and within the neighborhoods.
1. Where we started. 

Making connections.
With 5 unique segments, each having distinct personalities, we drew rings around each geographic area to easily identify them. Each ring was assigned a color. The word UNITY came up at the first public meeting by several community members — Unity Plaza, Unity Community, Unity Rings, etc. Rings=marriage, Olympics, linked together arm in arm, were all discussed. UNITY of businesses, residents and community as a whole, linked system.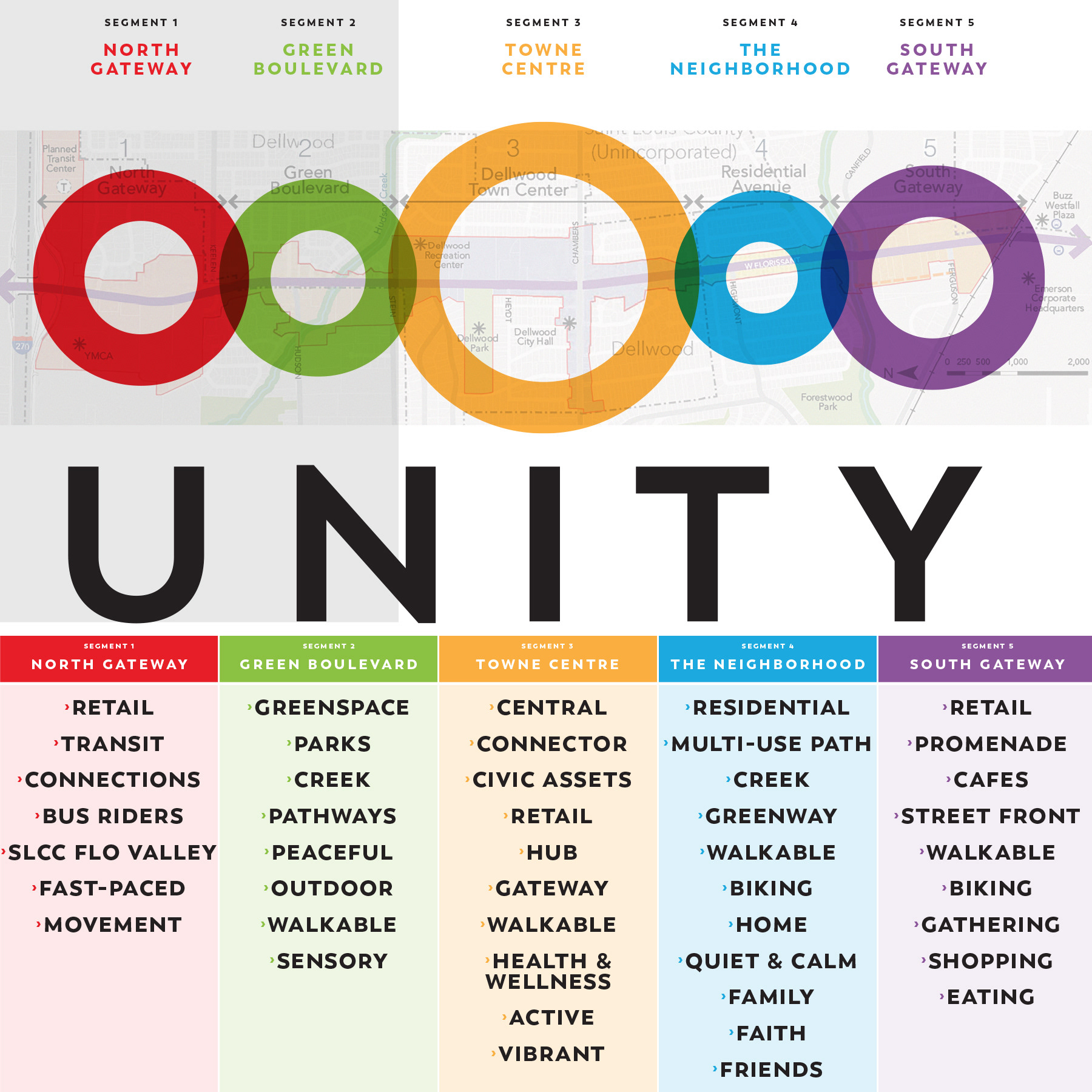 2. A unified effort.

Community branding exercise. 
​​​​​​​
We facilitated several workshops and survey engagements to get community input and creative perspectives. These place making exercises garnered a sense of pride and built excitement — a grass roots effort not typically seen with these types of developments.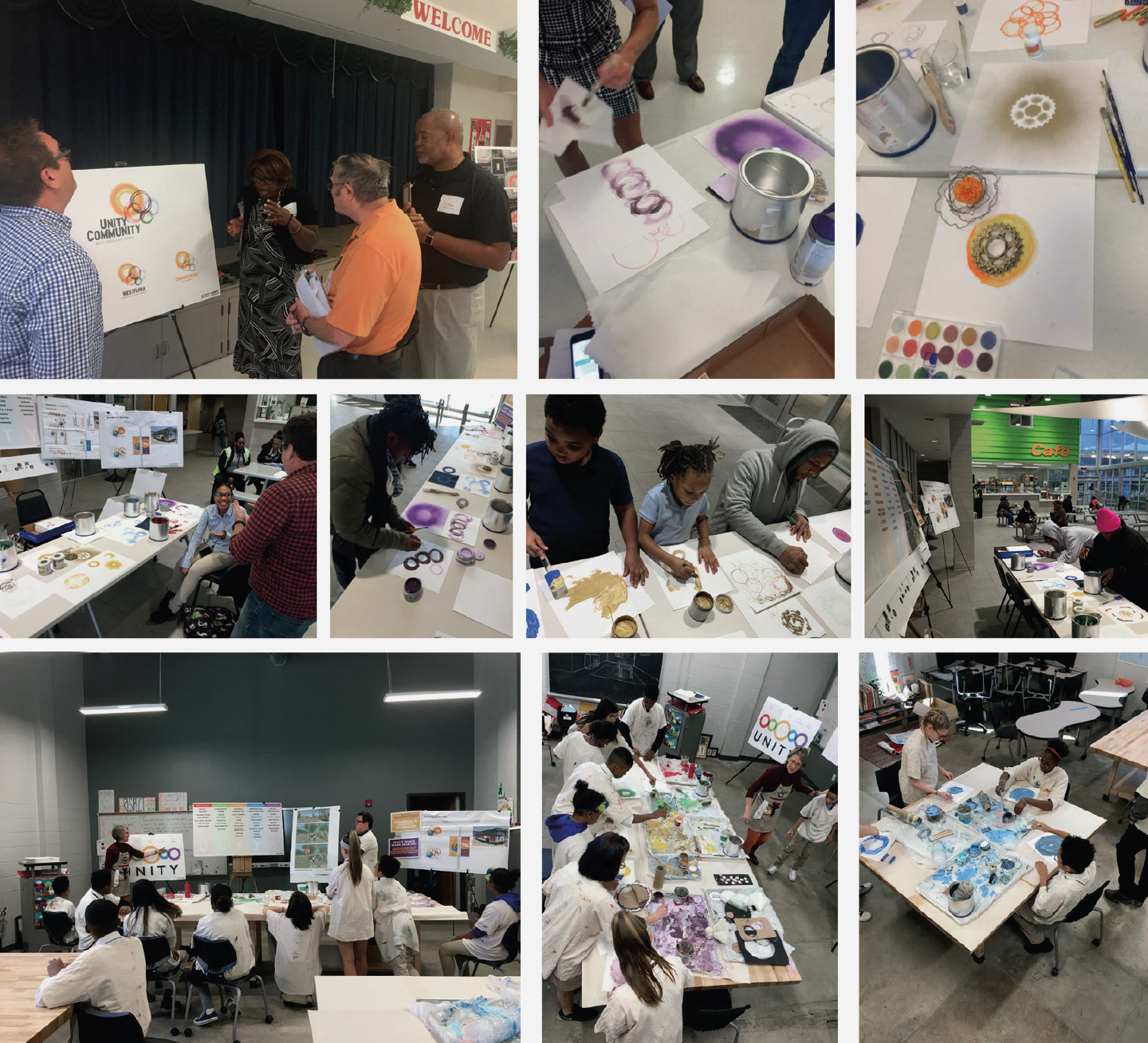 3. Unity rings.

Not just an ordinary logo. 
​​​​​​​
Over a span of four months, numerous unity rings were created by community stakeholders using a variety of tools and techniques representing each segment. Each UNITY ring represents ideas about that segment.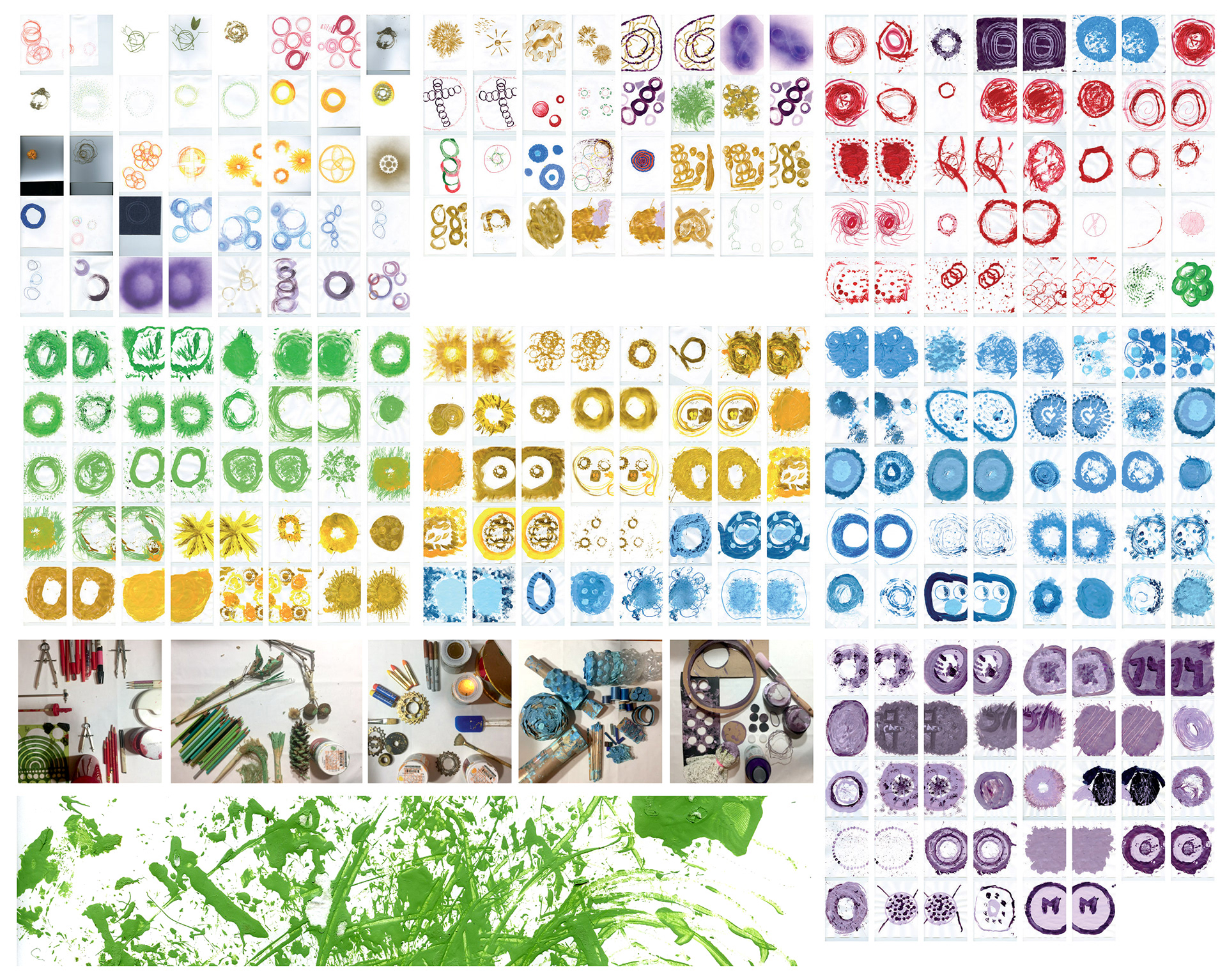 4. The brand logo.

An organic system. 
​​​​​​​
Various logo configurations can be executed across the physical place, i.e. pole markers, bus wraps, bus shelters, overpasses, sidewalks, etc. These brand marks represent the unique characteristics connecting each segment to the Avenue and stand apart from other districts.
(74 refers to the W Florissant Avenue Metro Bus number/line – one of the busiest in the region).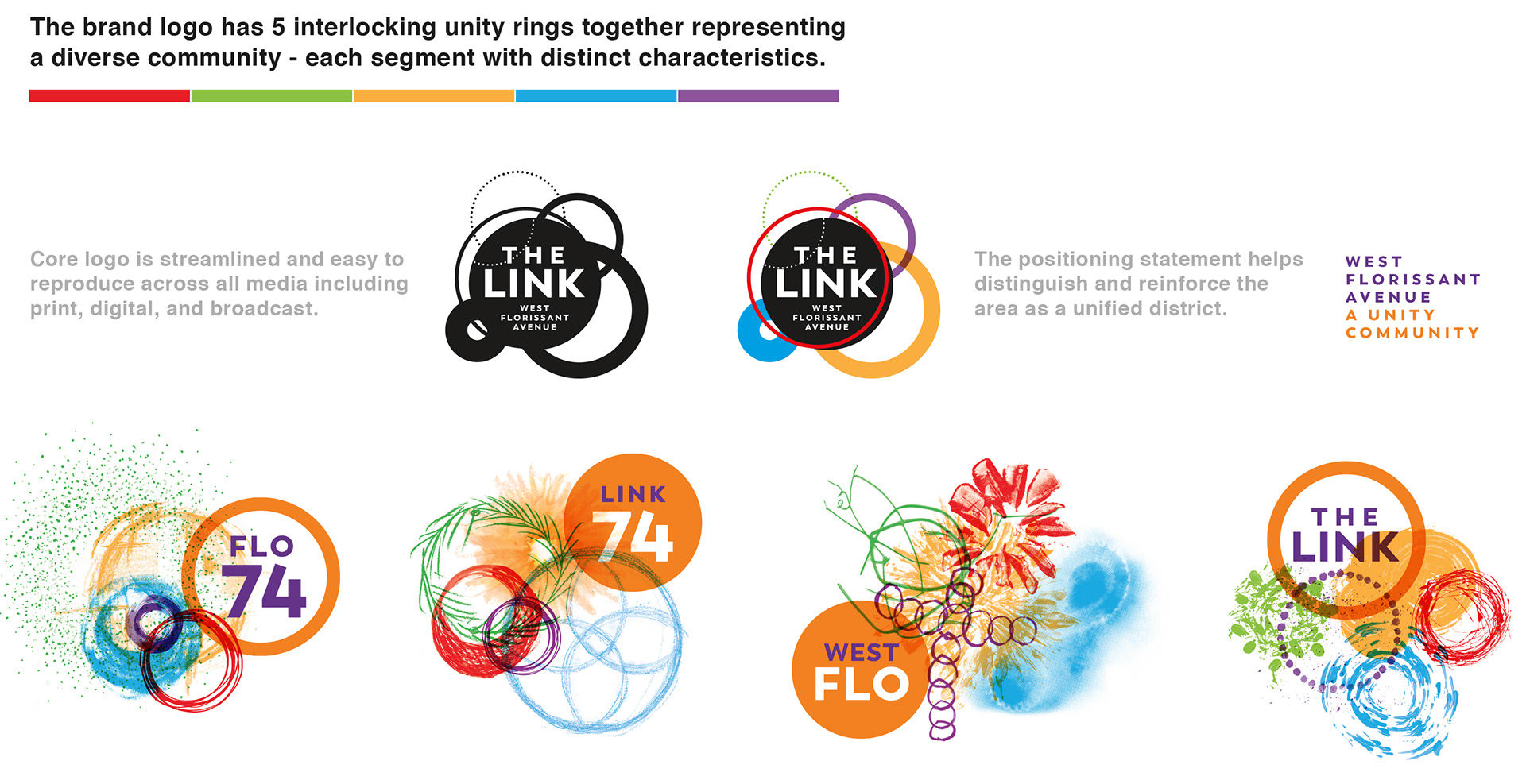 5. Place making ideas.

Where the brand comes to life. 
​​​​​​​
The unity rings concept can be carried over into the environment by creating sustainable graphics in public spaces, playgrounds, parks, trails and crosswalks. These images represent what could be and are only used as inspiration. However, the final two images represent how the graphic language may come together to influence surfaces from crosswalks to bus shelters to overpasses.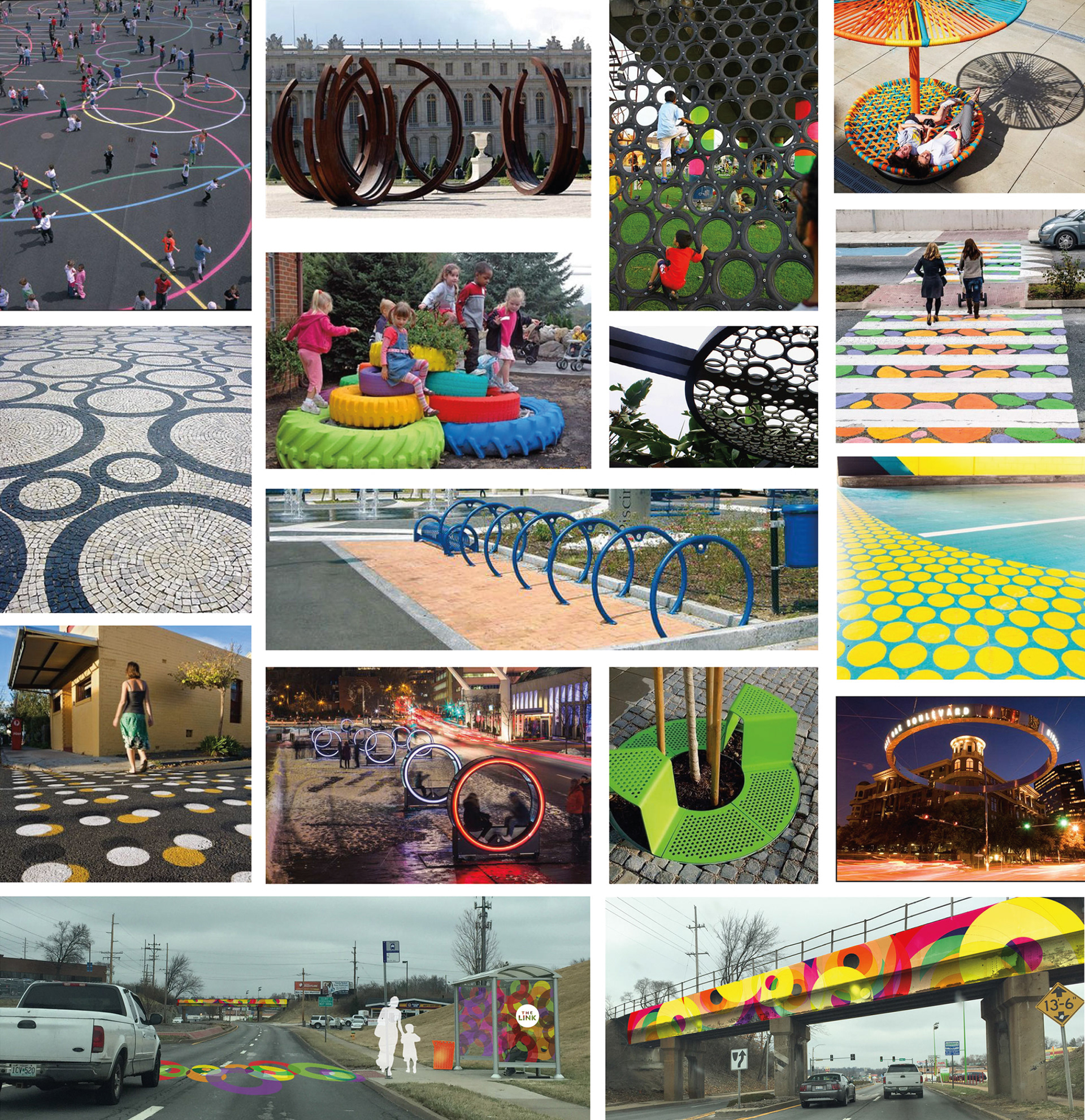 6. 
Brand
 markers.
Using graphic identity to define segments. 
​​​​​​​
Light pole markers are an effective way to help define a place, a route, give direction or simply strengthen the overall brand identity. For this project, it also became a way to share designs by community members who participated in the mark making exercises. A distinct set of standards were developed for these markers based on location AND street versus pedestrian level.

​​​​​​​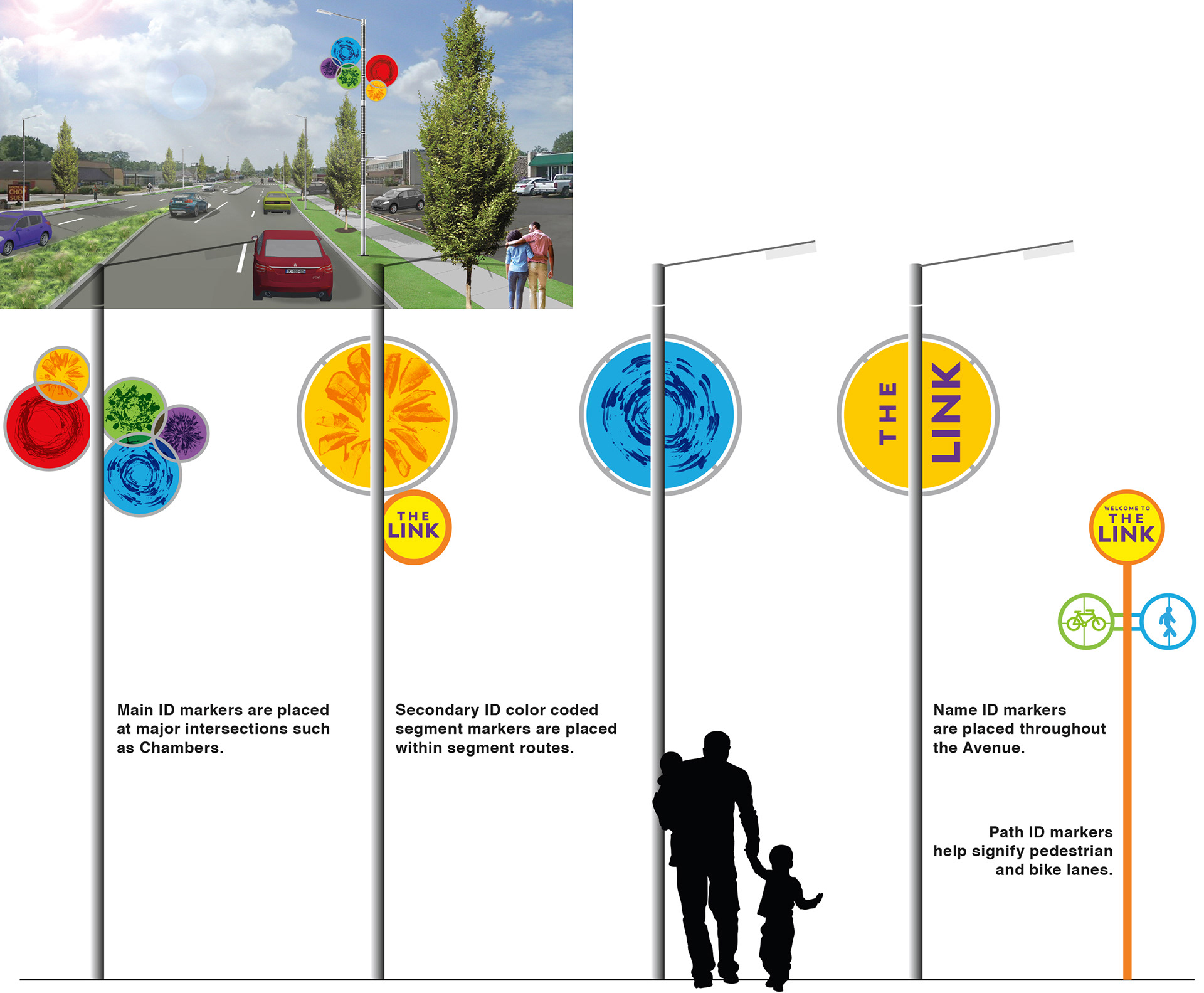 7. The transit connection
.
Brand making on buses. 
​​​​​​​
West Florissant Avenue is a heavily traveled bus route. Therefore, it was important to use buses as a way to extend and connect the brand identity to a larger audience. Also, it's another way to share the hundreds of branding marks made by community stakeholders – an exhibit on wheels!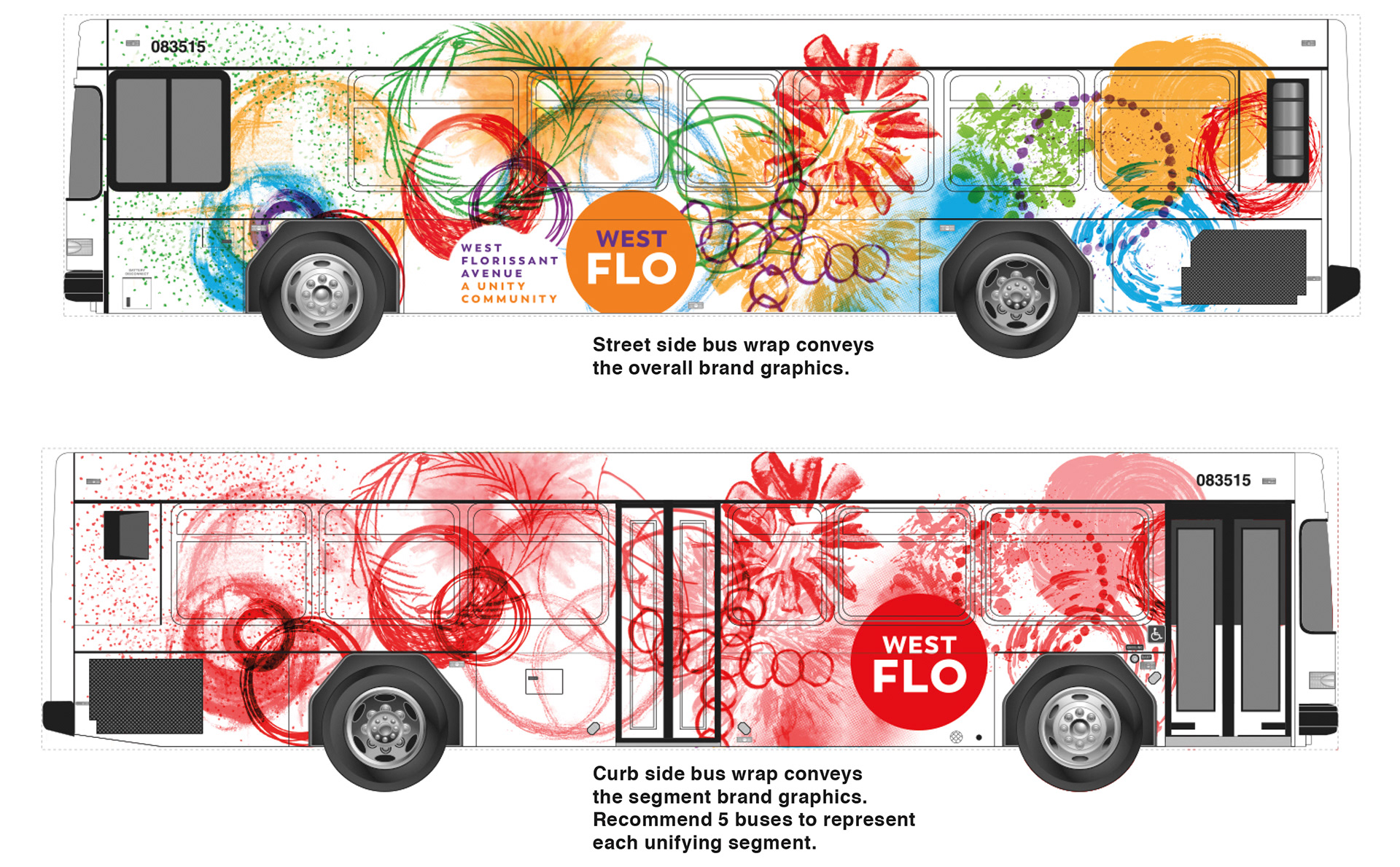 8. Public statements
.
Wearable art. 
​​​​​​​
Wearable brand ID is an easy and effective way to launch the project and get the community excited while promoting all the ongoing infrastructure projects.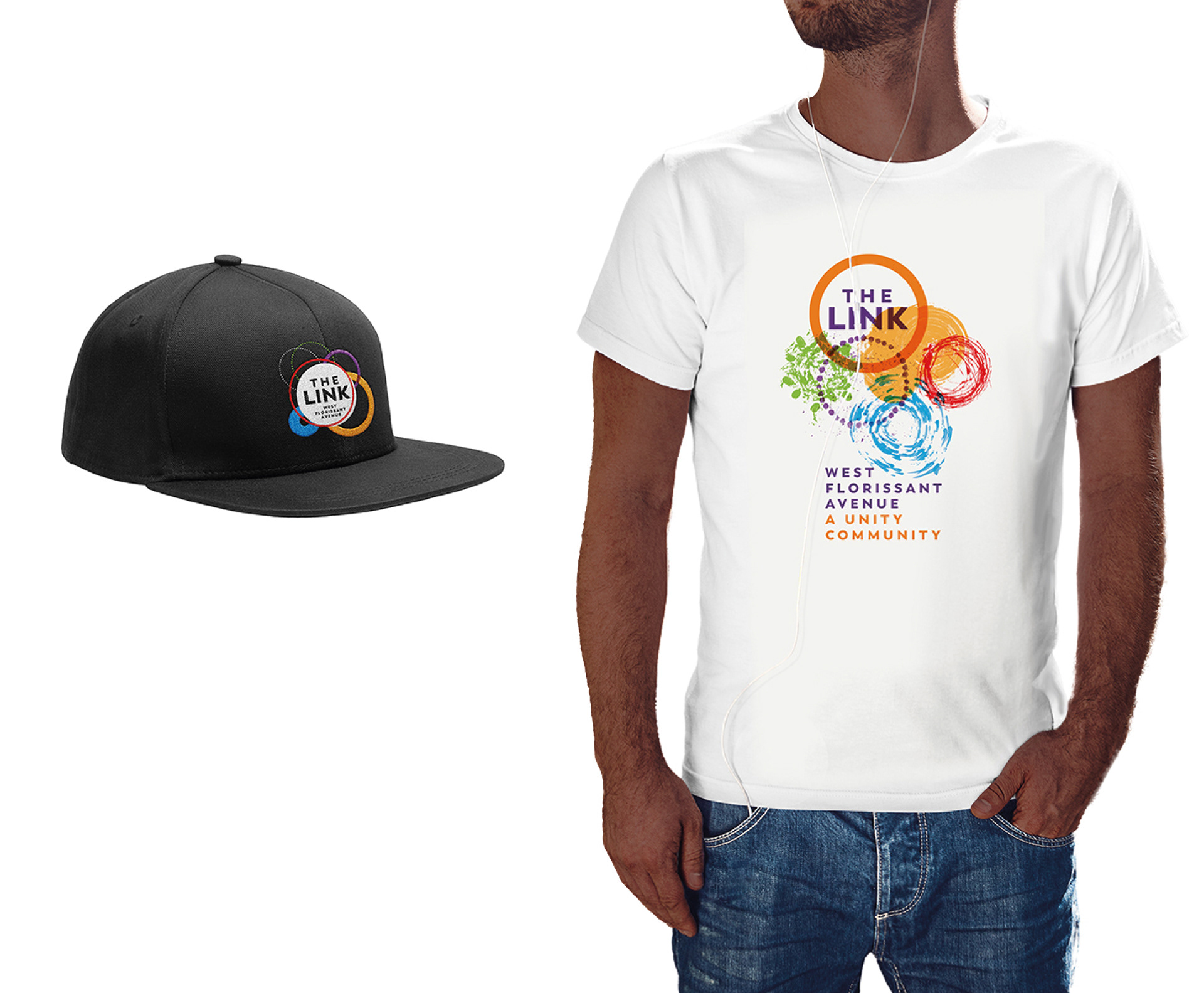 9. Public engagements
.

Celebrating community participation
.
A traveling "Unity Rings Art Show" offers the community a chance to see how they play an integral role in branding the corridor. The Show can be hung on 5 mobile wall units – easy to assemble, take down and move locations throughout the corridor.